XTJ 48 R
XTJ 48 R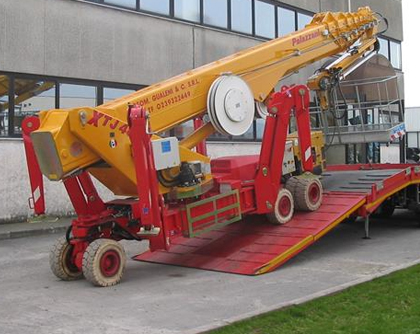 From -4 to +48 m metres with agility and precision. Multi-telescopic main boom and telescopic upper jib allow a direct approach at all heights with zero tail swing. Variable positions for each outrigger leg offer multiple set-up configurations.
360° continuous boom slewing is allowed under all outriggers' positions. Available on retractable rubber tracks and on wheels with DC power pack.
Working areas with 120, 200 and 300 kg s.w.l. are constantly monitored by automatic « area manager » safety system.
Electric wire-winch is interchangeable with the cage.
Technical Specification
Length -
48m
Width -
19,5m
Safe Work Load -
330kg
Turntable Slewing -
660°
Aerial Cage -
240 x 70m
Cage Rotation -
90°+80°
Automatic -
25%
BI-Energy -
Diesel + Ac
Weight -
11600 kg