Push around Quick up 9
Push around Quick up 9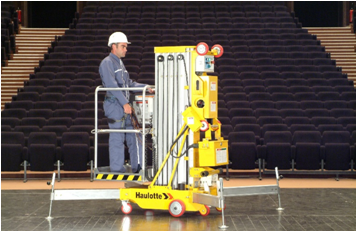 One-Man Lifts, portable, quick to setup, and simple to operate, are perfect for any and all construction and maintenance jobs. The narrow width allows the lifts to pass through a standard doorway, and the "X" placement of the outriggers will fit in most tight work areas.
Easy to install and set up.
Easy "stand up" access through flip up top rail into basket.
Only one man for loading and unloading.
The Quick Up compact dimensions allows access through standard doorways.
The Quick Up low weight allows works on fragile grounds.
Cage and mast in aluminium.
Technical Specification
Working height -
9.2m
Platform height -
7.2m
Lift capacity -
159kg
Platform size -
0.68 x 0.66 m
Length -
1.34m
Width -
0.74m
Height – stowed -
1.97m
Weight -stabilised
1.4m
Lenght -stabilised
1.7m
Tilt bar -
N/A
Energy(AC) -
110 or 230 V
Weight(AC) -
385kg
Energy(DC) -
12 V
Weight(DC) -
420kg